ACTIVITIES UNDER LOCKDOWN (COVID-19)
According to the motto of Gurbani, "Banda Ohi Jo Vakat Vichare" Dr. S.P. Singh Oberoi has such a personality. At International level, they had already sensed the dire situation of the Corona pandemic and ordered the necessary required medical equipment and supplies before the lockdown in India and began service as the pandemic spread. Health services were most important during this medical emergency. Dr. Oberoi was the first to offer masks, sanitizer to each department's facility, as well as ventilators to strengthen the health department. P.PE-kits Distribution and necessary equipment to government and private hospitals. Dr. Sahib's only cry for human heart was that in this difficult hour no child of the house, no old man should go to bed hungry and no one should be affected with this incurable disease. Dr. Oberoi, who was involved in saving lives, left his business and without caring risking his life. The service continued unabated and a special budget was allocated for its prevention and security.
Distribution of Dry Ration Kits : Sarbat Da Bhala Charitable Trust sent dry Ration to 60,000 households in different parts of India including Punjab, Haryana, Jammu and Kashmir and Himachal Pradesh by Volunteer members of the Trust and district level teams without thinking of risking their lives, safely delivered by following Corona pandemic instructions from door to door and in some places sought the help of the Administration. The purchase and packing was done by the trust at its own risk. Among them were those who lost their jobs and ran out of food needs, such as :-
The needy and ordinary families to whom no help was sent by the government.
Ration kits were provided to Ragis, Dhadis and Temple priests serving in Gurudwaras across the Punjab.
Ration kits were provided as special help for concubines, musicians, taxi drivers, auto drivers.
Ration kits were distributed to the employees of Amritsar and Mohali airports who lose their jobs due to the pandemic.
Ration kits were sent to help Asha workers and school bus drivers due to school closure.
This material included 20 kg ration kits of flour, rice, pulses, soyabean stalks, mustard oil, sugar, tealeaves which catered to the monthly needs of each family and was delivered not once but monthly as long as the pandemic lasted. It is to be mentioned that 3000 kits were provided by Dr. S.P. Singh Oberoi & distributed with his own hands.
Providing Dry Ration and Medical Assistance to Afghanistan Refugee during the Corona Pandemic : For the 20,000 refugees displaced from Afghanistan, the Afghan Embassy at Delhi, honoured to Dr. S.P. Singh Oberoi, Managing Trustee, Sarbat Da Bhala Charitable Trust. Sarbat Da Bhala Charitable Trust provided 4000 Dry Ration kits and Medical Aid to Afghanistan Refugees IInd time on the eve of Eid-ul-Bakreed. S. Jassa Singh Sandhu, National President of the Trust and others preparing the first batch of dry ration kits being sent under the able patronage.
Ration for 25 Needy Muslim Families : Under the able guidance of Dr. S.P. Singh Oberoi, Managing Trustee Sarbat Da Bhala Charitable Trust and National President of the trust S. Jassa Singh Sandhu handed over rations kits to social worker Manju Quershi for 25 needy Muslim families from the Trust Headquarter, Patiala. Sarbat da Bhala Charitable Trust handed over 120 Ton Ration to Afghanistan Embessy for 20,000 Afghani refugees.
Medical Aid to Various Departments
Under the dynamic leadership of Dr. S.P. Singh Oberoi Ji Managing Trustee Sarbat Da Bhala Charitable Trust 150 kits comprising of sanitizer, facemasks and Vitamin C, D tablet were handed over to Smt. Aprajita Joshi CJM-cum-Secy. District Legal Aid Authority, Hoshiarpur for distribution to needy slum dwellers. S. Agyapal Singh President, S. B.S. Randhawa, Vice President and S. Narinder Singh Cashier were president.

Mukhtar administration received PPE Kits, N95masks & Triplelayermasks for the safety of team and workers. Mr. Gurmel Singh (SP, Mukhtsar) accepted the Kits on behalf of SSP Mukhtsar, Mr. Rajbachan Singh Sandhu. They thanked Dr. S P Singh Oberoi, SarbatDaBhala team members and Mukhtar's Trust President Gurbinder Singh Brar for continuous support extended to the people of Punjab police, media

SarbatDaBhala Charitable Trust gave PPEKits, N95 Masks, triple layer masks and hand sanitizers to Jalandhar Police Department. ACP, Vimal Kant thanked Amarjot Singh ( Trust Incharge Doaba ) and accepted it on behalf of Police Commissioner, Jalandhar.

SarbatDaBhala Mohali Team donated PPEKits, N 95 and Triple layer masks for safety and protection of medical staff and all others working on front-line to safeguard the people of the country. It was handed over to District Revenue Officer Maj. Benipal and CMO Nominee Dr. Kuldip Singh in Mohali. Another set of masks were handed over to Mohali police. Also masks were given to Property Association for the staff preparing langar. The first batch of ration that was given is been distributed on regular basis to needy people

SarbatDaBhala is not leaving any opportunity to reach out in helping the people in need, Trust members in Amritsar are supplying ration and essentials to the remotest areas in Amritsar, Punjab with the support of #Zomato delivery persons, Trust salutes the spirit of all who are coming together in these tough times

SarbatDaBhala DaBhala Team Ferozepur distributed slippers to the grain market workers of Kamal Wala village of Tehsil Zira in the presence of Tehsildar Beant Singh. The Trust is trying to help people with all possible basic needs and to ease their lives amidst this crisis.

Sarbat Da Bhala Trust's Amritsar President, Sukhjinder Singh Heir and Navjit Singh handed over 100 dry ration kits to Amritsar Administration to be further distributed to the people in need of it. All districts teams of the trust are working day and night to reach out to the people who are stuck with the scarcity food and basic amenities amid this lockdown due to Covid-19 setback

Civil Hospital Gurdaspur received PPEkits, N95masks and Surgical Masks from Sarbat Da Bhala Charitable Trust. Surgeon, Dr. Kishan Chand, Senior Medical Officer Dr. Chetna and other hospital staff members thanked @spsoberoi Trust Gurdaspur Team for their efforts.

Sarbat Da Bhala trust donated ration and essential in Hoshiarpur through Trust President Agyapal Singh , Vice President BS Randhawa, Trust Members Jagmeet Singh Sethi, Sanjeev Arora and Parsotham Saini. Commissioner of Municipal Corporation distributed the supplies to the needy people of Municipal corporation and Fire services who are serving the nation bravely amidst Coronavirus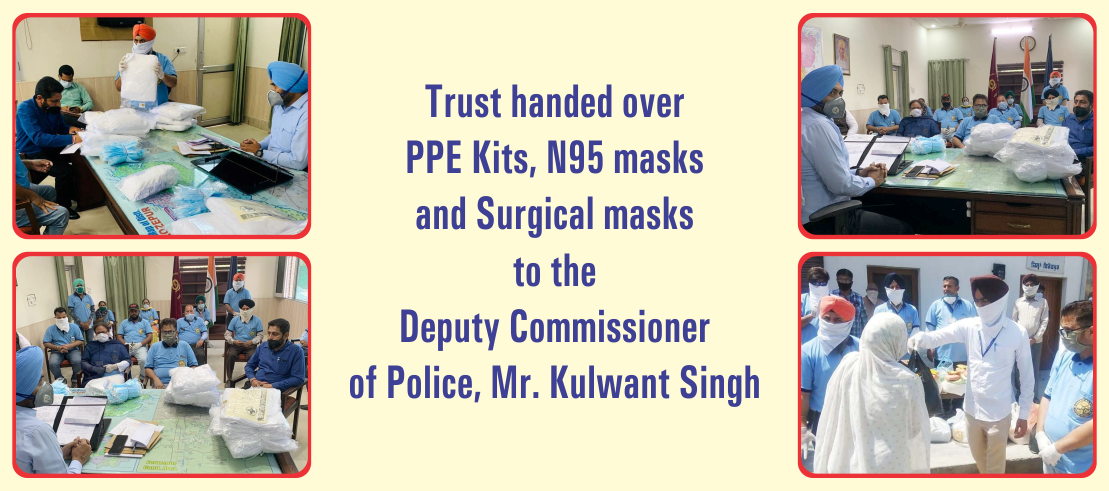 Ferozpur Team of Sarbat Da Bhala Charitable Trust handed over PPE Kits, N95 masks and Surgical masks to the Deputy Commissioner of Police, Mr. Kulwant Singh for the front line heroes fighting amidst Coronavirus. Alongwith serving the hospital and medical staff,the trust also distributed ration kits to 100 needy family in the district